-38%
Laser Scissors
$35.99
You save: $13.51 (38%)
Description
Traditional scissors mean sloppy, jagged, crooked cuts! Now you can cut things up with laser-like precision, thanks to these laser guided scissors!
Maximize the use of every scrap of fabric or paper you're cutting, with a perfectly accurate guide, using the Laser Scissors. No more wasted materials from uneven, crooked cuttings. These scissors ensure a perfectly straight line, every single time! They're very handy and easy to use. They operate just like regular scissors, but these scissors have a laser light, to guide you as you cut. They allow you to cut fast, because you've already got a guide to follow. Get your crafts and works done the fast and easy way.
The Laser Scissors are the perfect tool to have at home and they make a great gift for quilters, sewers and crafters! The blades are sharp enough and wide enough to cut paper, fabric and even cardboard quickly and with ease! Using this pair of scissors, your child can learn how to cut perfectly straight lines.
Due to their low power consumption, these scissors can be used for an extended amount of time!
Cut straight every time with these Laser Scissors
Works especially well on darker fabric
The Laser guides you accurately along your cutting path
Easy to grip and easy to hold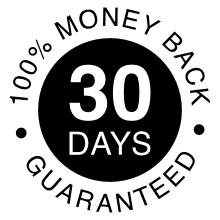 30 Day Money Back Guarantee
We know you'll love the products from Pama Goods, which is why we offer a Risk-free 30 Day Money-Back Guarantee on all of our products. If you're not satisfied with your product simply contact our customer care team and receive your money-back. (see terms and conditions for more info).