-50%
Magnetic Eyelash Extension
$49.99
You save: $25 (50%)
Description
Get The Glam Look In A 'Snap'
Hey, dolls! Want gorgeous faux lashes that are quick and easy to put on without the glue residue? If you're not using the Magnetic Eyelash Extension Kit, then you're missing out!
A Revolutionary Magnetic Eyeliner
This magnetic liner-and-lash duo amplifies your lashes naturally with ease. Forget messy glues that can potentially shut your eyes and growth serums that'll take months to work!
Fun and Easy Application
Our eyelash extension kit is beginner-friendly and comes with a tweezer which is a hygienic applicator for sticking and repositioning the lashes.
Stays On All Day Long
With Lash X, our faux lashes are as magnetic as your bombshell charm! Move as much as you want and they stay on your lids as if they were glued on. 
How To Use
1) Carefully apply the magnetic liner along the lashline. You can do clean and simple lines or be as creative and detailed as you please.
2) Take the magnetic lash by the hand or with a tweezer, carefully align it along with the liner.
3) Reposition it until you're satisfied with how it looks over your eye.
Why Lash X Is Better
It gives you

longer and fuller eyelashes in a matter of seconds.

Enhances your overall look with different lash styles.
Lash X liner formulation and lashes are 

FDA-Approved.
Eyelash serums and castor oil that claim to grow lashes may cause an

adverse reaction that can harm your eyes.

No need for heavy mascara

 that can make your natural lashes

weak and brittle.

 
Features
✔️ Waterproof. with a smudge-proof formula that doesn't run even as you sweat, unleash your inner artist anytime you want!
✔️ Lightweight. these liner's formulation and lashes are lightweight and are easier to wear so they won't drag down nor push on your eyeglasses.
✔️ Easy & Safe To Use. the liner's formulation is FDA-approved so it's safe to the skin aside that it is easy to apply.
✔️ Enhancing. these lashes make your eyes look larger and more dramatic.
✔️ Reusable. you can make use of these lashes more than once as long as you keep using the magnetic eyeliner. No more wasteful spending.
What Others Are Saying
"My makeup routine is very light and simple and these helped elevate my eye look without overdoing it. It is something I could wear during the day running around or out at night."
– Stacy Chung
" I wore them for a family wedding. They stayed on perfect from 11 am until I took them off at 1 am!…. I really like them!"
– Lauren Galloway
Specifications:
False Eyelash Sort: Strip Lashes
Falso Eyelash Style: Natural Long
Eyeliner Volume: 4ml
Eyelash Dimensions: 
| | | | | |
| --- | --- | --- | --- | --- |
| Lash Type | Left (L) | Middle (L) | Right (L) | Width |
| Diamond | 8mm | 13mm |  9mm | |
| Doha | 6mm | 11mm | 13mm | |
| Miami | 7mm | 18mm | 7mm | |
| Angel | 6mm | 9mm | 12mm | |
| Secret | | 13mm | | 29mm |
| Wisp | | 11mm | | 30mm |
Your Order Includes
1 x Magnetic Eyelash Extension Kit
The Magnetic Eyelash Extension Kit is the fastest and easiest way to wear eyelash extensions. It uses magnetism to attach the eyelash extension to the eyeliner and it stays on all day, so you stay dolled up all-day long!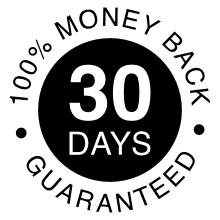 30 Day Money Back Guarantee
We know you'll love the products from Pama Goods, which is why we offer a Risk-free 30 Day Money-Back Guarantee on all of our products. If you're not satisfied with your product simply contact our customer care team and receive your money-back. (see terms and conditions for more info).
Related products
$

49.98


You save: $25.03 (50%)