-53%
Magnetic Eyeliner & Eyelash Kit
$52.99
You save: $28 (53%)
Description
Every woman dreams of having long, lush and lovely eyelashes!
Now, you can have thicker, longer and more beautiful eyelashes quickly, easily and painlessly, with the Magnetic Eyeliner & Eyelash Kit! This easy to use, magnetic kit is every woman's dream come true!
You might be wondering, what is a Magnetic Eyeliner & Eyelash Kit? Well, it's a beauty system that gives you the ability to have long, gorgeous eyelashes in an instant. It's quick, easy, and pain free! Simply apply the special eyeliner, allow it to dry and then gently, "click" the lashes directly to the magnetic eyeliner. It's as easy as 1-2-3; APPLY, DRY, CLICK! 
Long Lasting, Extended Wear- The secret to long, lovely lashes is the cosmetic-grade, magnetic eyeliner, that's embedded with ultra-fine magnetic particles, combined with high-quality lashes. There's no glue, and no sticky tape, just amazing eyeliner and long, beautiful lashes.
Easy To Apply- If you can apply eyeliner, than you'll have no trouble using the Magnetic Eyeliner & Eyelash Kit. Shake and apply the eyeliner just as you would any other eyeliner. Once it's applied, gently place the lashes against the eyeliner and they neatly "click" into place, it's as simple as that.
Beautiful Results- These lashes look just like real lashes. The exquisite matte-black eyeliner locks your lash extensions into place immediately upon contact and they're ready for long-lasting and durable wear.
Step 1: Shake eyeliner well before using.
Step 2:
Apply our special, magnetic eyeliner to the edge of your lash line, making sure to draw a long enough line, allow to dry.
Step 3:
Place the eyelash along the roots of your lash line, right on top of the magnetic eyeliner. 
You'll be surprised when you bat your eyes! These magnetic eyelashes are easy to use and very comfortable to wear!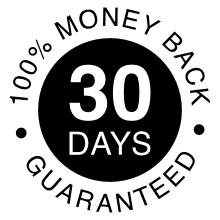 30 Day Money Back Guarantee
We know you'll love the products from Pama Goods, which is why we offer a Risk-free 30 Day Money-Back Guarantee on all of our products. If you're not satisfied with your product simply contact our customer care team and receive your money-back. (see terms and conditions for more info).
Related products
$

69.98


You save: $34.99 (50%)