-50%
RF Ultracavitation Fat & Cellulite Remover
$179.90
You save: $89.95 (50%)
Description
Ultrasonic Cavitation is The World's Most Effective Slimming Solution!
Benefits of UltraCavitat 2.0, helps increase direct access to the deeper fat cells, bringing the cells to a fast – active state from the production of localized heat, so that deep fat cells are broken down efficiently. Cavitation 2.0 is vastly improved over the 1.0 units
Painless treatment focus RF energy at the correct position, compared to other radio frequency technology .it uses low energy and high frequency, safe and effective
Tripolar small RF for face and eye, tripolar facial lifting uses technologies developed in the medical and physiotherapy fields to activate the skin's natural chemicals responsible for health and vitality.Bipolar Tripolar RF Facial wrinkle elimination, tightening and lifting.
A safe, minimally-invasive procedure, it uses low levels of visible red laser light to create a safe and painless stimulation is of the normal chemical pathways to free up reserved energy resources stored in fat.it is safe, effective and immediately demonstrable.
Selectively targeting fatty tissue, to avoid heating other fat, to achieve the fastest treatment effect
Features:
1. Ultrasound Fat Cavitation Therapy Is Versatile
Ultrasound fat cavitation can be used on virtually any area of your body where you're carrying extra weight. Common treatment spots include the belly, thighs, buttocks, or back.
2. Ultrasound Fat Cavitation Therapy Is Non-Invasive
Unlike liposuction, ultrasound fat cavitation doesn't require any surgical procedures – so there's no anesthesia, no blood, and no bandages. Instead, the treatment relies on low-frequency sound waves to help you lose inches, without causing any bodily trauma.
3. Ultrasound Fat Cavitation Therapy Is Natural
Fat cavitation therapy uses low-level ultrasonic waves to break your fat cells down into a liquid while leaving surrounding tissues intact. Once the fat cells have liquefied, they're eliminated from your system using your body's own natural elimination processes.
4. Ultrasound Fat Cavitation Therapy is Painless
During and after the procedure, you shouldn't experience any discomfort. At most, you may feel a gentle warming sensation as the ultrasound wand works its way across your skin.
5. Ultrasound Fat Cavitation Therapy Is Safe
Ultrasound is routinely used for many diagnostic and therapeutic medical procedures. There's no risk involved, especially when compared to other methods of fat reduction that require invasive surgical procedures.
6. Ultrasound Fat Cavitation Therapy Is Fast
Each fat cavitation therapy session only takes 20-60 minutes, making it the perfect lunch-hour treatment. There's no downtime, and the only thing you'll need to do to prepare is drink plenty of water.
7. Ultrasound Fat Cavitation Therapy Is Immediate
Results are often visible right away – sometimes, you can see a difference immediately after your very first treatment. Optimal results begin to show in as little as 72 hours. Depending on your individual body composition, you may need six to twelve treatments in order to achieve your goals.
8. Ultrasound Fat Cavitation Therapy Is Easy
Aside from increasing your water intake, eating healthy, and maintaining a moderate exercise program, there's nothing else you need to do to reap the benefits of ultrasound fat cavitation therapy.
9. Ultrasound Fat Cavitation Therapy Is Effective
When diet and exercise fails, ultrasound fat cavitation therapy offers a solution that works. You can reshape your body, banish cellulite, and feel good in the skin you're in.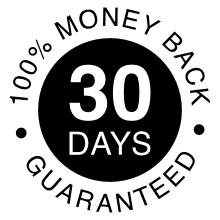 30 Day Money Back Guarantee
We know you'll love the products from Pama Goods, which is why we offer a Risk-free 30 Day Money-Back Guarantee on all of our products. If you're not satisfied with your product simply contact our customer care team and receive your money-back. (see terms and conditions for more info).